Aldeyra Therapeutics, Inc.


ALDX

announced that the FDA has granted an Orphan Drug designation to its pipeline candidate ADX-2191 (methotrexate for intravitreal injection) for the treatment of primary vitreoretinal lymphoma ("PVRL"). Currently, there is no FDA-approved treatment for the given indication.
The Orphan Drug designation is granted to drugs that are capable of treating rare diseases which affect less than 200,000 people in the United States. This tag also makes the company entitled to certain other benefits, including tax credits related to clinical study expenses, an exemption from the FDA user fee and seven-year marketing exclusivity upon potential approval.
Per the company, PVRL is a rare, aggressive, cancer that affects an estimated 2,800 people in the United States, with around 600 new cases diagnosed annually. Hence, if successfully developed and upon potential approval, ADX-2191 can serve an area of unmet medical need and drive growth for the company.
ADX-2191, a dihydrofolate reductase inhibitor, is also being evaluated in a phase III study for the treatment of proliferative vitreoretinopathy, a rare retinal disease.
Shares of Aldeyra have rallied 35.2% so far this year against the

industry

's decrease of 12%.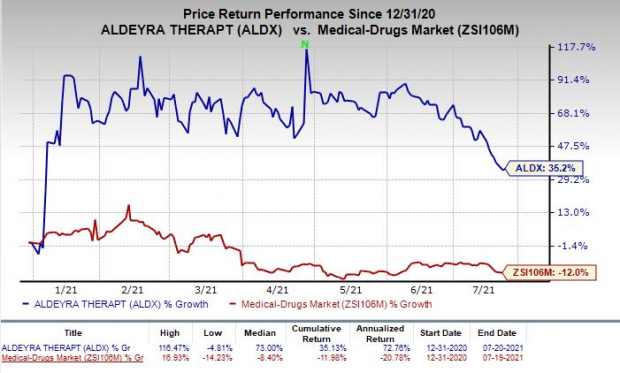 Image Source: Zacks Investment Research

Aldeyra is a clinical-stage biotechnology company that focuses on the development of novel therapies for immune-mediated diseases.
The company's lead compounds, reproxalap and ADX-629, target reactive aldehyde species ("RASP"), leading to elevated levels of cytokine release via activation of a broad array of inflammatory factors, including NF-κB, inflammasomes and Scavenger Receptor A.
Reproxalap is being developed in late-stage studies for treating anterior ocular inflammatory diseases such as dry eye disease and allergic conjunctivitis. The company plans to meet with FDA authorities to discuss the potential submission of a new drug application for reproxalap during the second half of 2021.
Meanwhile, ADX-629, a novel orally available RASP inhibitor, is currently being investigated in phase II studies for treating asthma, psoriasis and COVID-19 infection.
Aldeyra has no approved product in its portfolio at the moment. Therefore, pipeline development remains in key focus for the company.
Zacks Rank & Stocks to Consider

Aldeyra currently carries a Zacks Rank #3 (Hold). Better-ranked stocks in the same sector include

Foghorn Therapeutics Inc.


FHTX

,

Can-Fite BioPharma Ltd.


CANF

and

Corcept Therapeutics Incorporated


CORT

, all carrying a Zacks Rank #2 (Buy) at present. You can see


the complete list of today's Zacks #1 Rank (Strong Buy) stocks here


.
Foghorn Therapeutics' loss per share estimates have narrowed 3.1% for 2021 and 6.8% for 2022 over the past 60 days.
Can-Fite BioPharma's loss per share estimates have narrowed 31.9% for 2021 and 51.2% for 2022 over the past 60 days. The stock has surged 24.2% year to date.
Corcept's earnings estimates have been revised 2.5% upward for 2021 and 3.1% upward for 2022 over the past 60 days.

Breakout Biotech Stocks with Triple-Digit Profit Potential

The biotech sector is projected to surge beyond $775 billion by 2024 as scientists develop treatments for thousands of diseases. They're also finding ways to edit the human genome to literally erase our vulnerability to these diseases.
Zacks has just released

Century of Biology: 7 Biotech Stocks to Buy Right Now

to help investors profit from 7 stocks poised for outperformance. Our recent biotech recommendations have produced gains of +50%, +83% and +164% in as little as 2 months. The stocks in this report could perform even better.

See these 7 breakthrough stocks now>>

Want the latest recommendations from Zacks Investment Research? Today, you can download 7 Best Stocks for the Next 30 Days.

Click to get this free report


To read this article on Zacks.com click here.