Catalyst Pharmaceuticals


CPRX

has had a good run this year. The stock has surged 43% in the year-to-date period against the

industry

's decline of 18.7%.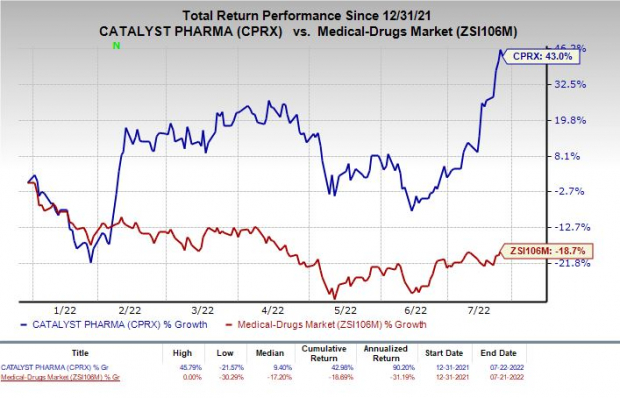 Image Source: Zacks Investment Research

The upside can be attributed to the stellar performance of Firdapse, Catalyst's only approved drug. In the first quarter of 2022, the company revenues were up 42.7% year over year, driven by the steady growth of Firdapse. The trend is likely to continue in the future quarters of 2022.
Firdapse was approved by the FDA for treating adults with Lambert-Eaton myasthenic syndrome ("LEMS"). It is currently the only FDA-approved drug for LEMS in the United States.
LEMS is an ultra-rare disease and the company estimates approximately 3,000 LEMS patients in the United States. With such a niche target market and no competitors, Catalyst positioned itself in the lead.
To combat the challenge of finding markets where the disease is known enough to be diagnosed, Catalyst has been working on expanding Firdapse's reach in additional geographies.
Catalyst entered into a license agreement with DyDo Pharma for developing and commercializing Firdapse in Japan. To obtain regulatory approval for the product from the Japanese regulatory authorities, Dydo initiated a phase III study evaluating Firdapse for LEMS in Japan.
Opening up markets for Firdapse outside of the United States and Canada will further boost Catalyst's top line.
Additionally, Catalyst has made substantial advancements to protect Firdapse's exclusivity and commercial potential in the addressable market.
The companyhas been pursuing label expansion studies for Firdapse. In the first-quarter 2022, the company submitted a supplemental new drug application (SNDA) to the FDA for the use of Firdapse in treating pediatric LEMS patients.
Last week, Catalyst announced that it has finally reached a settlement with Jacobus and PANTHERx Rare on its ongoing patent infringement litigation. The settlement marks the end of an ongoing dispute between Catalyst and Jacobus Pharmaceuticals since the latter's drug Ruzurgi (amifampridine) was approved by the FDA in 2019 for treating LEMS in pediatric patients. This was contested by CPRX in its lawsuit, claiming that the regulatory body's approval violated the orphan drug designation granted to Firdapse for treating LEMS.
Per the terms of the settlement, Catalyst will write off all claims related to the litigation between the companies.
Catalyst also acquired certain intellectual property rights of Jacobus, which include the rights to develop and commercialize Ruzurgi in the United States and Mexico. In return, Catalyst will make a cash payment to Jacobus. Jacobus will also be eligible to receive low single-digit royalties on U.S. net sales of amifampridine.
The announcement of the settlement also pushed up Catalyst's share prices.
Catalyst has been looking for opportunities to expand its pipeline beyond Firdapse by acquisitions or in-licensing rights of products or companies.Currently, the company is developing CPP-109 (vigabatrin) in collaboration with Endo to treat infantile spasms and complex partial seizures.
However, the company's overdependence on Firdapse and the lack of any promising candidates in its pipeline can be a headwind.
Zacks Rank and Stocks to Consider

Catalyst currently carries a Zacks Rank #3 (Hold)
Some better-ranked stocks in the same sector include

Aquestive Therapeutics


AQST

,

Verrica Pharmaceuticals


VRCA

and

Ionis Pharmaceuticals


IONS

, each carrying a Zacks Rank #2 (Buy) You can see


the complete list of today's Zacks #1 (Strong Buy) Rank stocks here



.

Aquestive Therapeutics'loss per share estimates for 2022 have narrowed from $1.50 to $1.34 cents in the past 30 days. The same for 2023 has narrowed from 95 cents to 74 cents in the same time frame.
Earnings of Aquestive missed estimates in one of the trailing four quarters and beat the same on the remaining three occasions, the average surprise being 13.78%.
Verica's loss per share estimates for 2022 narrowed from $1.26 to $1.13 in the past 30 days. The same for 2023 has narrowed from $1.33 to $1.20 in the same time frame.
Earnings of Verica beat estimates in all of the trailing four quarters, the average surprise being 28.45%.
Ionis' loss per share estimates for 2022 widened from $2.39 to $2.43 in the past 30 days. The same for 2023 has remained steady at $2.04 in the same time frame. IONS has returned 28.2% in the year-to-date period.
Earnings of Ionis missed estimates in two of the trailing four quarters and beat the same on the remaining two occasions, the average negative surprise being 24.35%.

Zacks Names "Single Best Pick to Double"

From thousands of stocks, 5 Zacks experts each have chosen their favorite to skyrocket +100% or more in months to come. From those 5, Director of Research Sheraz Mian hand-picks one to have the most explosive upside of all.
It's a little-known chemical company that's up 65% over last year, yet still dirt cheap. With unrelenting demand, soaring 2022 earnings estimates, and $1.5 billion for repurchasing shares, retail investors could jump in at any time.
This company could rival or surpass other recent Zacks' Stocks Set to Double like Boston Beer Company which shot up +143.0% in little more than 9 months and NVIDIA which boomed +175.9% in one year.

Free: See Our Top Stock and 4 Runners Up >>

Want the latest recommendations from Zacks Investment Research? Today, you can download 7 Best Stocks for the Next 30 Days.

Click to get this free report


To read this article on Zacks.com click here.