JinkoSolar Holding Co. Ltd.


JKS

recently inked a deal with Europe-based Memodo, thus marking its first ever European energy storage solution agreement. This, in turn, gives an opportunity to Jinko Solar to capitalize on the growing demand for energy independence in Europe.
Further, the deal, which comprises an all-in-one system, a stackable low-voltage and high-voltage storage system and a single or three-phase hybrid inverter, enhances JKS' position in the D-A-CH region comprising Germany, Austria and Switzerland for 2022 and 2023.
Jinko Solar's Growth Prospects in Europe

The increased adaptation of renewable sources of energy is driving the demand for solar-based energy in Europe as it boasts the most cost-efficient pathway to attain carbon neutrality. This, in turn, exhibits solid growth potential in the energy storage market, which could be instrumental to Jinko Solar's growth prospects.
Going forward, per the report from Wood Mackenzie, the Europe energy storage market is anticipated to expand 20-fold between 2022 and 2031.
With an already established position with solar modules in the European solar market that offers an intriguing and upbeat growth opportunity, particularly in the battery storage section, indicates solid prospects for JKS. Hence, the recent collaboration with Memodo provides JinkoSolar with a competitive edge in the European energy storage market.
Peer Moves

To reap the benefits of the growing European solar market, several solar players are also giving their efforts.
In May 2022,

Enphase Energy


ENPH

announced that Enphase engineers approved the combination of Enphase IQ Batteries with third-party inverters in Belgium and Germany to help meet the increasing demand for energy independence in the region. Belgium and Germany remain two key and fast-growing European markets for Enphase products.
The Zacks Consensus Estimate for Enphase's 2023 earnings has been revised upward by 5% in the past 60 days. ENPH stock has rallied 33.2% in the past year.
In April 2022,

ReneSola


SOL

announced that it closed the sale of a 24 megawatt (MW) solar-plus-storage project in the United Kingdom to Innova. It is a solar-plus-storage ground-mounted project among ReneSola Power's more than 200 MW pipeline of projects with different expected sales years in the United Kingdom.
The Zacks Consensus Estimate for ReneSola's 2022 sales indicates a growth rate of 39.5% from the prior-year reported figure. The Zacks Consensus Estimate for SOL's 2023 earnings suggests a growth rate of a solid 103% from the prior-year estimated figure.
In May 2022,

Canadian Solar


CSIQ

announced that it entered the utility scale energy storage market in the United Kingdom after signing agreements to provide integrated energy storage systems and Engineering, Procurement and Construction services for four battery storage projects. Pulse Clean Energy is the owner of the four projects of more than 100 megawatt-hour (MWh).
The Zacks Consensus Estimate for Canadian Solar's 2023 earnings has been revised upward by 30.5% in the past 60 days. The Zacks Consensus Estimate for CSIQ's 2022 sales suggests a growth rate of 37.7% from the prior-year reported figure.
Price Movement

In a year, shares of JinkoSolar have rallied 67.5% against the

industry

's decline of 17.8%.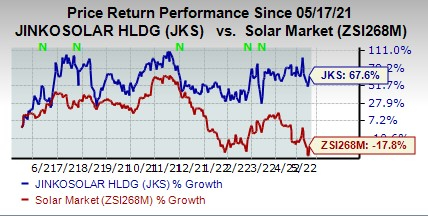 Image Source: Zacks Investment Research

Zacks Rank

JinkoSolar currently carries a Zacks Rank #5 (Strong Sell).
You can see


the complete list of today's Zacks #1 Rank (Strong Buy) stocks here



.


Investor Alert: Legal Marijuana Looking for big gains?

Now is the time to get in on a young industry primed to skyrocket from $13.5 billion in 2021 to an expected $70.6 billion by 2028.
After a clean sweep of 6 election referendums in 5 states, pot is now legal in 36 states plus D.C. Federal legalization is expected soon and that could kick start an even greater bonanza for investors. Zacks Investment Research has recently closed pot stocks that have shot up as high as +147.0%.
You're invited to immediately check out Zacks'

Marijuana Moneymakers: An Investor's Guide

. It features a timely Watch List of pot stocks and ETFs with exceptional growth potential.

Today, Download Marijuana Moneymakers FREE >>

Want the latest recommendations from Zacks Investment Research? Today, you can download 7 Best Stocks for the Next 30 Days.

Click to get this free report


To read this article on Zacks.com click here.