Shares of

Verve Therapeutics


VERV

increased11.21% on Jul 20 after the company announced a collaboration with biotech giant Vertex Pharmaceuticals

VRTX

to develop a gene editing program for a liver disease.
Per the terms of the four-year agreement, Verve will receive an upfront payment of $25 million and a $35 million equity investment from Vertex. Verve will also be eligible for up to $66 million in success payments and up to $345 million in potential milestones and royalties on future net sales.
Under the collaboration, Verve will conduct the early research and preclinical development of the novel gene editing program for a target, the program costs for which will be funded by Vertex.
Vertex will further be responsible for developing, manufacturing and commercializing any program originating from Verve's research.
The deal expands Verve's capabilities and its pipeline in the genome editing field.
Shares of Verve have declined 2.6% year-to-date compared to the

industry

's fall of 19.9%.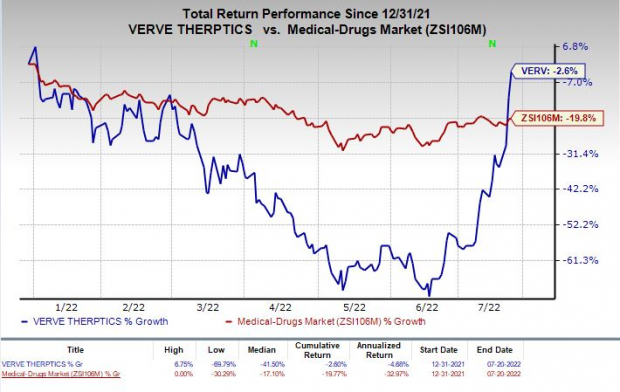 Image Source: Zacks Investment Research

The company currently has two candidates in its pipeline, led by VERVE-101, which is being developed for patients with heterozygous familial hypercholesterolemia or HeFH, characterized by very high LDL cholesterol (LDL-C).
VERVE-101 functions by permanently switching off the PCSK9 gene in the liver, thus improving its ability to clear LDL-C from the blood.
Earlier this month, Verve announced dosing the first subject in the phase Ib heart-1clinical study, which will enroll 40 adult HeFH patients with established atherosclerotic cardiovascular disease (ASCVD). The study will evaluate the safety, tolerability and pharmacokinetics of VERVE-101.
The company's other candidate, ANGPTL3, is being developed for homozygous familial hypercholesterolemia, or HoFH. The candidate is currently in the preclinical phase.
Verve intends to evaluate ANGPTL3 for two indications, namely, for the treatment of HoFH and in ASCVD patients who have not achieved the goal of LDL-C lowering with oral therapy and a PCSK9 inhibitor.
In a separate press release, Verve announced a $200 million underwritten stock offering,
Zacks Rank and Stocks to Consider

Verve Therapeutics currently carries a Zacks Rank #3 (Hold)
Some better-ranked stocks in the same sector include

Aquestive Therapeutics


AQST

and

Ionis Pharmaceuticals


IONS

, each carrying a Zacks Rank #2 (Buy) You can see


the complete list of today's Zacks #1 (Strong Buy) Rank stocks here



.

Aquestive Therapeutics'loss per share estimates for 2022 have narrowed from $1.50 to $1.34 cents in the past 30 days. The same for 2023 has narrowed from 95 cents to 74 cents in the same time frame.
Earnings of Aquestive missed estimates in one of the trailing four quarters and beat the same on the remaining three occasions, the average surprise being 13.78%.
Ionis' loss per share estimates for 2022 widened from $2.39 to $2.43 in the past 30 days. The same for 2023 has remained steady at $2.04 in the same time frame. IONS has returned 28.2% in the year-to-date period.
Earnings of Ionis missed estimates in two of the trailing four quarters and beat the same on the remaining two occasions, the average negative surprise being 24.35%.

5 Stocks Set to Double

Each was handpicked by a Zacks expert as the #1 favorite stock to gain +100% or more in 2021. Previous recommendations have soared +143.0%, +175.9%, +498.3% and +673.0%.
Most of the stocks in this report are flying under Wall Street radar, which provides a great opportunity to get in on the ground floor.

Today, See These 5 Potential Home Runs >>

Want the latest recommendations from Zacks Investment Research? Today, you can download 7 Best Stocks for the Next 30 Days.

Click to get this free report


To read this article on Zacks.com click here.